Veterans Memorial at Fountain Park
Leesburg, Lake County Florida
Welcome to the Veterans Memorial at Fountain Park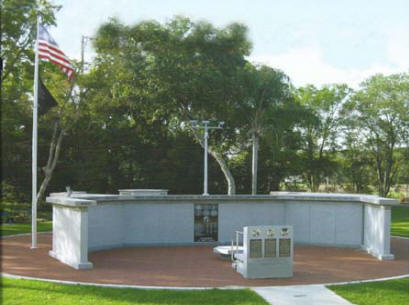 Welcome to our web site. We are honoring all the Veterans in Lake-Sumter-Marion Counties and The Villages. Located in Veterans Memorial Park directly across from City Hall in downtown Leesburg, this granite memorial is 60 feet in diameter and 7 feet high and covers 2800 square feet.This is one of the largest Veteran memorials in the Southeast. New names will be added to the Memorial twice a year. In addition there will be 10,500 bricks on the floor of the Memorial to honor any person you would like to honor. As of 04/16/2016 we are now honoring 8823 veterans on the memorial wall.

All veterans who have served at least 90 days in the armed forces and received an Honorable, Medical or in some cases a General discharge can be on the wall. There is an engraving charge of $35.00 per name. You must be a resident of Lake-Sumter-Marion Counties or you were a resident at the time you served in the military. Mail or bring a copy of your DD214 and a check for $35.00 to the address listed below:

Veterans Memorial at Fountain Park

C\O Southern Monument Studios

404 N. Blvd E. (Hwy 441)

Leesburg, FL 34748

Phone (352) 314-2100

If you have additional questions, click on FAQ (Frequently Asked Questions) on the menu above.

Click here to see the opening ceremony video

Click here to see the flag dedication video

We have made available through our links....

PEOPLE:
Memorial Staff, the Advisory Board and Professional Associates.

FREQUENTLY ASKED QUESTIONS:
Explains what we are doing.

FORMS:
Buy a brick or
Information Request For a DD214 Form

CONSTRUCTION:
Photographs to keep you up to date on the construction phase

SCRAPBOOK:
Photographs to keep you up to date on our activities

LEGAL:
Tax deductions, corporate information, etc.

3D rendering of the Memorial site
Click Here to see a animation of the rendering.